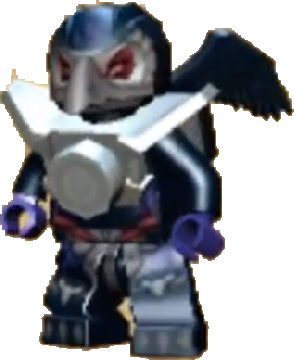 The Raven Veteran, is an enemy and playable character from the video game, Laval's Journey. For the Nintendo 3DS and DS. She can be unlocked from a character Token.
Physical Appearance
The Raven Veteran is a black female Raven
She wears a silver bikini made from scrap metal
Her top is shaped like a winged Raven
Her bikini bottom hangs from a red belt and consists of random sheets of scrap metal. She also has raven-themed knee pads.
Her eyes are yellow and are surrounded by red markings. She also has a silver mask.
Her hands are purple and she has talons.
Trivia
She, alongsides the Raven Warrior, are the only two confirmed female ravens.
She is one of the only ravens to wear some sort of leg-clothing.
Ad blocker interference detected!
Wikia is a free-to-use site that makes money from advertising. We have a modified experience for viewers using ad blockers

Wikia is not accessible if you've made further modifications. Remove the custom ad blocker rule(s) and the page will load as expected.