The Lion 
Legend Beast
is one of 8 Legend Beasts rescued by the Heroes in Season 2.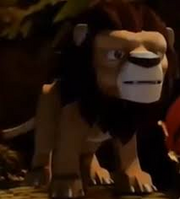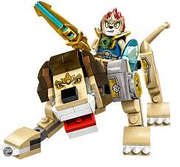 The
Scorpion Tribe
captured it by surrounding it with a pool of water, as no Lion, not even the Legend Beast, can swim.
Laval
later rescued it by using his '
Inner-Chi
' and learning to swim, then teaching the Legend Beast to swim. It's appearances in the first two seasons were
Episode 2
and
Episode 26
. It later appears in Season three multiple times, usually in the Background, and sometimes prominent, such as when Laval gave
Li'Ella
a ride on its back.
Trivia
The Lion Legend Beast can speak to members of the Lion Tribe by growling and roaring, how this works is currently unknown.
The Lion Legend beast was the first Legend beast to recieve armor, courtesy of Lavertus.
Gallery