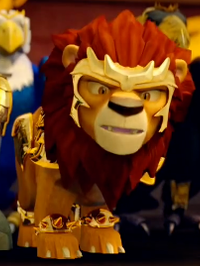 The
Lion Legend Beast
is one of the eight
Legend Beasts
, it's first appearance was in
The Great Story
, where it saved
Laval
from drowning near the forever rock. It was later captured by the
Scorpion Tribe
and imprisioned underneath their fortress. In
This May Sting A Bit
, Laval rescued it by teaching it to swim.
It later defended the Lion Temple from the Ice Hunters.
Gallery
Ad blocker interference detected!
Wikia is a free-to-use site that makes money from advertising. We have a modified experience for viewers using ad blockers

Wikia is not accessible if you've made further modifications. Remove the custom ad blocker rule(s) and the page will load as expected.